С Рождеством Христовым!


Когда же Иисус родился в Вифлееме Иудейском во дни царя Ирода, пришли в Иерусалим волхвы с востока и говорят: где родившийся Царь Иудейский? ибо мы видели звезду Его на востоке и пришли поклониться Ему.

cum ergo natus esset Iesus in Bethleem Iudaeae in diebus Herodis regis ecce magi ab oriente venerunt Hierosolymam dicentes ubi est qui natus est rex Iudaeorum vidimus enim stellam eius in oriente et venimus adorare eum

Now when Jesus was born in Bethlehem of Judaea in the days of Herod the king, behold, there came wise men from the east to Jerusalem, Saying, Where is he that is born King of the Jews? for we have seen his star in the east, and are come to worship him.

И внезапно явилось с Ангелом многочисленное воинство небесное, славящее Бога и взывающее: слава в вышних Богу, и на земле мир, в человеках благоволение! Когда Ангелы отошли от них на небо, пастухи сказали друг другу: пойдем в Вифлеем и посмотрим, что там случилось, о чем возвестил нам Господь. И, поспешив, пришли и нашли Марию и Иосифа, и Младенца, лежащего в яслях.

et subito facta est cum angelo multitudo militiae caelestis laudantium Deum et dicentium gloria in altissimis Deo et in terra pax in hominibus bonae voluntatis et factum est ut discesserunt ab eis angeli in caelum pastores loquebantur ad invicem transeamus usque Bethleem et videamus hoc verbum quod factum est quod fecit Dominus et ostendit nobis et venerunt festinantes et invenerunt Mariam et Ioseph et infantem positum in praesepio

And suddenly there was with the angel a multitude of the heavenly host praising God, and saying, Glory to God in the highest, and on earth peace, good will toward men. And it came to pass, as the angels were gone away from them into heaven, the shepherds said one to another, Let us now go even unto Bethlehem, and see this thing which is come to pass, which the Lord hath made known unto us. And they came with haste, and found Mary, and Joseph, and the babe lying in a manger.

Вифлеем. Церковь Рождества Христова.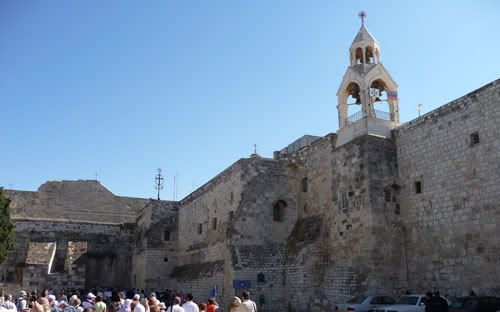 Врата смирения